Website not only represents your corporate online image but also is the important platform for your business activities, customer services, ecommerce and emarketing. It is vital to periodically review your site to ensure that it is still up-to-date and can achieve your business goals. Since some business people are not very familiar with the website redesign and its production process, we list the typical website redesign process to show how to launch a redesign and its work flow from start to finish for your ease of reference.

The web redesign process can be classified in the following phases and be listed as below: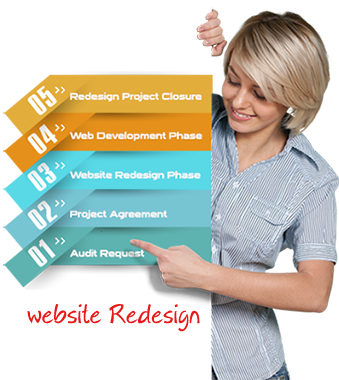 Phase 1 – Audit Request
Client provides audit request and website redesign details

Communication and needs assessment

Web redesign proposal and quote after determining redesign requirements

Phase 2 – Project Agreement
Client signs contract agreement

Client pays the deposit to start web redesign project

Phase 3 – Website Redesign Phase
Client provides detailed website relaunch contents (if any)

Website relaunch element planning

Website mock-up design and its approval

Visual design adjustment and confirmation

Phase 4 – Web Development Phase
Building and implementing development framework

Web development production

Tests for the website revamp project

Phase 5 – Redesign Project Closure
Final deliverables and review

Final confirmation and payment

Launch the redesigned website

Search engine submission (if any)

Documentation for client training & website maintenance

Website revamp project closed
If you would like to learn more about what services our
website redesign solution provider
offers, please fill out the audit request.
Audit Request